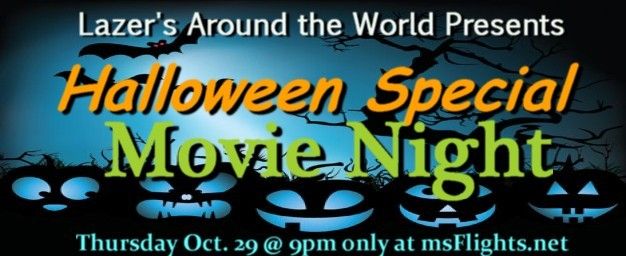 Hey guys! Looks like its time for a Halloween monster movie night!
Thursday night HQ wants us to make the long hop from Baffin's Island to the southern tip of Greenland, a journey of over 600 miles! We will therefore watch a
classic monster movie
while flying this long leg.
Thursdays flightplan is as follows:

Pangnirtung Baffin Isle Departure (CYXP)
Narsarsuaq Greenland (BGBW)
A flightplan .PLN file for this flight can be found here:
http://1drv.ms/1O4aN5s
Aircraft:
Speed: 250 KIAS
Altitude: 18,000 ft.
Must have an autopilot
Fly anything you like for this flight (the spookier the better mwaahaha) as long as it fits the conditions listed above. Once we get to altitude I will share a "
Sync Video"
link and start the show!
So pop some corn, turn down the lights, and meet us @ 9pm Thursday night for this Spooktacular monster movie night!
Happy landings,
Lazer
please visit my Onedrive here: