**UPDATE**
All my software is now located at
dotdash.space
SIMCOM will let you auto switch channels in Teamspeak 3 when you tune frequencies in your Flight Simulator.
Handy for people who were having the problem of not being able to switch views while using FSX.
Also handy if you want to fly realistically switching frequencies in your aircraft whilst talking to real Flight Sim ATCOs.
A small video of what this Teamspeak addon does is below.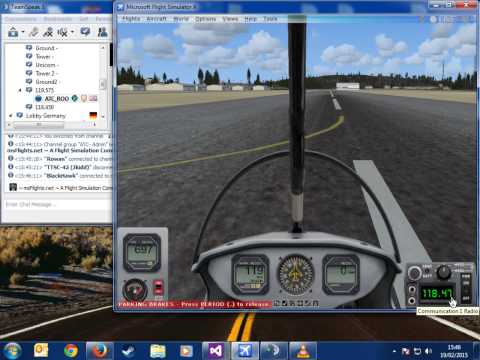 There are a number of versions of this plugin knocking about but the originals are below.
SIMCOM
(For the 32bit TS3 Client only, nothing else needed.)
Download the latest version here.
Built by me (ATC_ROO) from code supplied by D Dawson of FSDeveloper (thanks Doug).
Uses SimConnect and requires nothing other than the 32bit TeamSpeak 3 client.
This is not a 64bit plugin so will not work with the 64bit TeamSpeak client.
Installation
:
1.Download and open the zip file from the link above.
2.Double click the Teamspeak installer inside the zip file.
BFSG SIMCOM
(For both the 32bit and 64bit TS3 Client, FSUIPC is needed)
Download the 32bit version here.
Download the 64Bit version here.
Created by Andy Parish to work with All FSX versions as well as FS9, P3D and XPLANE.
Uses
FSUIPC
so that will need to be installed too, the free version is fine.
Installation:
1.Download the correct plugin above for your Teamspeak version (32 or 64).
2.Double click the files you downloaded to install.
Some browsers may show these files as a zip file.
They are actually installers and need to have to extension .ts3_plugin
To test the TeamSpeak server must have a frequency in the channel name.
Enjoy.